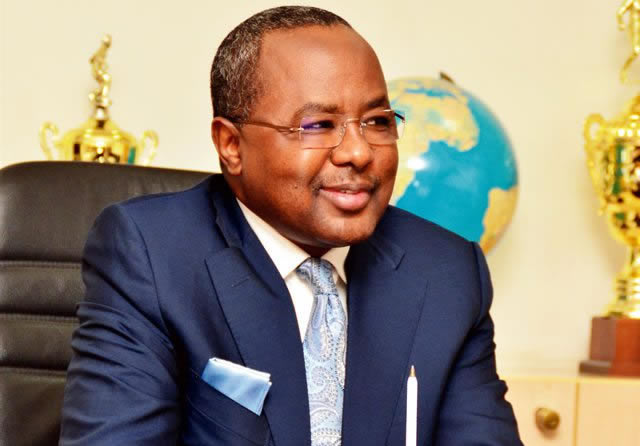 The Association of Senior Civil Servants of Nigeria has alleged plans by the Federal Government to reinstate the suspended Director-General of the Securities and Exchange Commission, Mounir Gwarzo, just as it did for the Executive Secretary of National Health Insurance Scheme, Prof. Usman Yusuf.
The body said feelers from the Presidency indicated that President Muhammadu Buhari had been under intense pressure by some members of his inner cabinet to recall Gwarzo, currently on suspension for alleged corrupt practices.
He was suspended after being indicted of alleged financial improprieties by an administrative panel set up by the Minister of Finance, Mrs. Kemi Adeosun.
The ASCSN said in a statement by its Federal Capital Territory Secretary, Isaac Ojemhenke, that the alleged planned reinstatement "will further dent the anti-graft war of the present administration."
According to him, even if there is going to be an outcry, it will soon fizzle out just like the case of the NHIS executive secretary, "who was reinstated and heavens did not fall."
"But what the cabal does not seem to understand is that the impression being created in the minds of millions of Nigerians with the policy of recalling chief executives and other top government officials enmeshed in financial malpractices is that the war against corruption is a ruse," the ASCSN stated.
Apart from the fact that the SEC DG allegedly approved and paid himself a humongous sum of N105m as severance benefit while still in office, the association said Gwarzo was also allegedly involved in other financial issues, including compelling the commission to be awarding contracts to companies he had interest in.
Ojemhenke added that that this type of action was a gross violation of public service rules, financial regulations, and other extant government guidelines dealing with the conduct of public officers.
He said, "By planning to reinstate the SEC director-general, the government is creating the impression that Gwarzo is indispensable, yet, the commission has continued to function during his absence.
"There are many qualified Nigerians who are capable of performing excellently in such exalted positions; so why should the government continue to reinstate individuals with character deficit into strategic offices?
"The policy of recalling individuals with corrupt acts hanging on their necks into the public service is fuelling the culture of impunity in the country. The danger is that the public is beginning to think that once you are in the good books of President Muhammadu Buhari, you will be rewarded for engaging in corrupt acts. This is very unfortunate and should be stopped."
"We recall the attempt to smuggle the former Chairman of the Presidential Task Force on Pension Reforms, Abdulkareem Maina, who was dismissed from service because of N2.7bn pension fraud, into the public service but for public outcry."