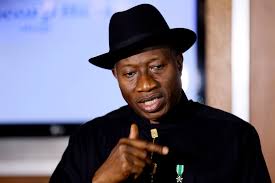 There is disquiet in Bayelsa State over an alleged plan by former President Goodluck Jonathan to take over the control of the Peoples Democratic Party in the state.
A PDP leader in the state, who spoke on condition of anonymity, said, "The former President wants to control the state because he desperately wants to stage a come-back at the Presidency in 2019. For him to do that, he must be seen to be in control of the party in the state.
"He desires to install not only the next governor; he also wants to install his surrogates in other elective positions in 2019 such as senators, House of Representatives members and the state House of Assembly lawmakers.
"Jonathan also desperately wants all groups and individuals with political aspirations to queue behind him as the leader of the party in the state ahead of the 2019 elections.
"It will guarantee him a sure footing to make a strong bid for the party's presidential ticket come 2019. Hence, the need to take the governor out at all cost since he is the only one constituting a stumbling block to the realisation of his dream."
He added, "To this end, we learnt on good authority that the former President himself with his own handwriting inserted Bayelsa in the list of seven states whose executive committees were slated for dissolution arising from the decision reached at the party's recent non-elective convention in Abuja."
The state leadership of the party had alleged recently that there were attempts by its estranged members to take over the structures but vowed to resist it.
The Chairman of the party, Mr Cleopas Moses, insisted that the PDP would not be used as a platform by "anti-democratic forces" to impose their candidates on the party.
He said political jobbers and miscreants jostling to take over the party should look elsewhere.
He commended Makarfi for not dissolving the state's party executives despite pressure mounted on him by some persons in the state to do so.
He maintained that the party as currently constituted in the state was strong and united, assuring Makarfi of electoral victory in the state.
Efforts to get the reaction of Jonathan through his media aide, Mr. Ikechukwu Eze, were futile as calls to his mobile phone indicated that it was switched off.