Exclusive: The Japanese manager parted ways with the Anambra Warriors on Monday and claims the interference at the club is too much than what he experienced in Ghana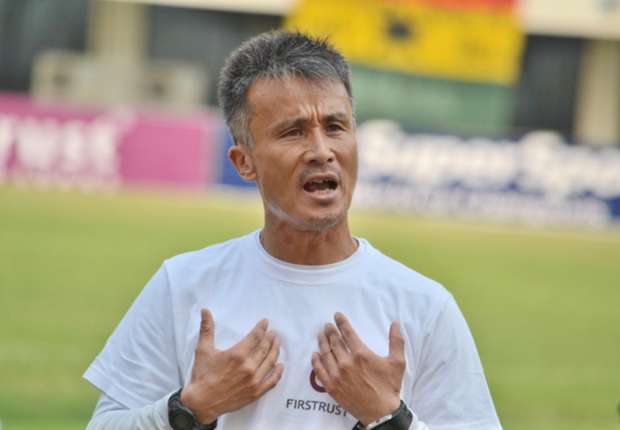 Kenichi Yatsuhashi has expressed his dissatisfaction about treatment merited to him after canceling his contract with Nigeria Professional Football League side FC Ifeanyi Ubah just one month in charge. The 47-year-old joined the club alongside Yaw Preko, his former assistant coach at Hearts of Oak, but claims the experience there was unprecedented.
The Japanese took charge in only two pre-season games but fell out with the club's top hierarchy. He claims they wanted to interfere with player selections and also painted him bad to the media because of his firm stance against any interference.
"There are several negative reports out there in Nigeria about me since I joined FC Ifeanyi Ubah and I need to respond to them. When I joined the club there were massive interferences by the management with regards to player selections which brought about disagreements at meetings and I was almost hit by one of the people around who claimed to be a former player of Parma," Kenichi told Goal from his base in Japan.
"I still chose to resist some directives like training twice a day because we only had two weeks to prepare and it resulted into different issues. The players would've broken down if I had complied.
"Salaries were cut off, promises made to me and the team were never delivered. Also there were lies through the local media and few of the fans that I'm very bad and rude because I objected their autocratic ways. Chukwuma D. Ubah, chairman of the club verbally asked me to leave after our second match in the 2016 NPFL Super 4 tournament, and I agreed to leave. He thought I would resist and probably beg to stay but that is not me. Honestly, these people are worse than Hearts of Oak.
"According to Chukwuma, my contract had not started yet because it was stipulated that it will begin when the league kicks off and my future will then be decided on the performance of the club. I did not utter anything to him, but even with this, they refused to buy me a ticket back to Japan until I threatened to send them to Fifa for damages," he added.
Kenichi further explained that his players could not perform well in the Super 4 because they were tired since they had few days to rest before the tournament began.
"The players were tired during the NPFL Super 4 because they were not given any time off after the last match of the last season, and we did training twice a day during the pre-season for two weeks. This made it difficult for us to win the tournament although it was our target from the start.
The former Aspire Academy coach also rejected suggestions that the players were complaining about his training methods and poor game plan and insists they were all fabricated.
"It was reported by some media outlets that the players complained that my training style was too physical and my tactics were poor but that wasn't the issue. Rather, that was what the management wanted the supporters to believe and gave such news to some people.  In fact, the key players who were with the club last season told me that they believe they will stand a better chance to win the league and Confederation Cup since fitness is very key. I encountered same at Hearts but after five matches, we were at the top of the log and the same people started praising me."
Goal understands that Ghanaian clubs Tema Youth and Hearts are planning to bring the Japanese back to Ghana ahead of the 2017 season, which is expected to kick off in February.