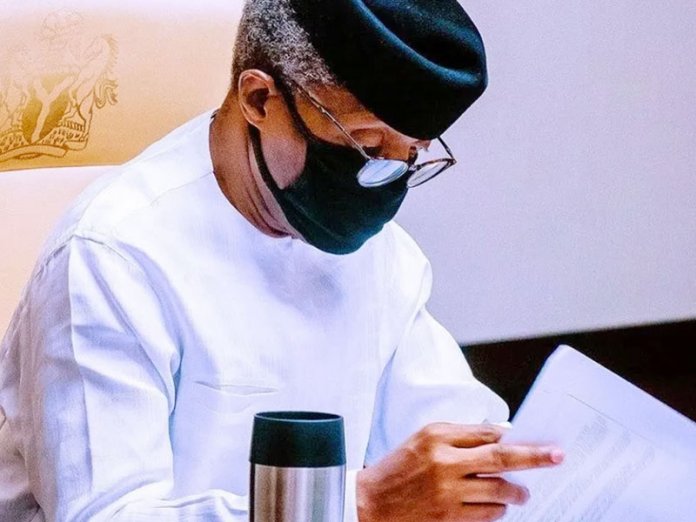 Vice President Yemi Osinbajo has faulted claims by social critics that the serial review of the 1999 Constitution as amended is a waste of resources and has not achieved anything.
Osinbajo, in his goodwill message yesterday at the inauguration of the House of Representatives' special ad-hoc committee on the review of 1999 Constitution, said the various amendments to the constitution have strengthened the document and made the nation's democracy better.
In furtherance of the review, the House yesterday inaugurated a special ad-hoc committee to superintend over the exercise.
The committee listed its focus to include, among others, how to achieve federalism, state police, creation of more states and local government autonomy.
Also speaking at the inauguration, the Chairman of the Independent National Electoral Commission (INEC), Prof. Mahmood Yakubu, reiterated his statement that the next presidential election will hold on February 18, 2023, and urged members of the House to speed up the process of reviewing the constitution, as only about 855 days are left before the next general election.
Osinbajo, represented by the Secretary to the Government of the Federation (SGF), Mr. Boss Mustapha, said President Muhammadu Buhari remains the president who has signed the most constitutional alteration Acts since the advent of democracy in 1999.
He listed such amendments to include the Not Too Young to Run Bill that reduced the age a person must attain to contest elections and the law that granted financial autonomy to the judiciary and the legislature.
Osinbajo while restating that the constitution review is a work-in-progress, urged the ad hoc-committee not to discountenance any constitution alteration proposal, no matter how idealistic but to look at ways to galvanise them to improve the economy, create jobs, guarantee national safety and security and abolish corruption.
He assured the ad-hoc committee that the executive will cooperate with it by making input into its work and assenting to the final product at the end of the process.
"My presence here underscores the importance this administration attaches to the review of the constitution to be able to address our societal ills and propel the nation towards greatness," he said.
He expressed confidence in the ability of the committee's leadership and members to discharge their mandate excellently by liaising with relevant government agencies, civil society organisations, multilateral and supranational agencies and bodies to achieve a wholesome amendment to the Nigerian constitution.