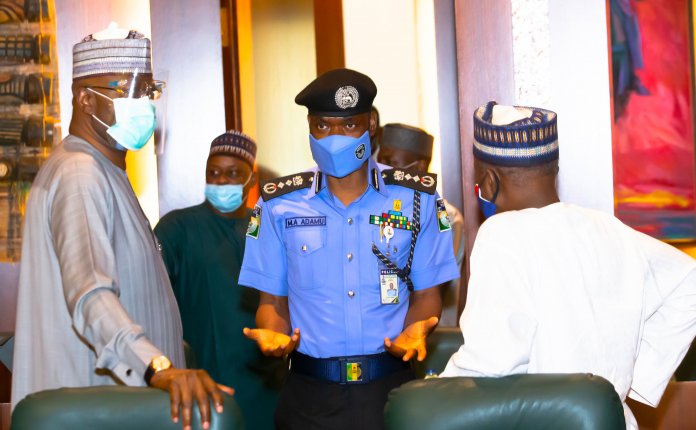 The presidency yesterday expressed shock as the Nigeria Police Force (NPF) launched a legal bid to arrest the ongoing proceedings by judicial panels set up by state governments to investigate allegations of brutality against the law enforcement agency's personnel, which triggered the #EndSARS protests that later snowballed into an orgy of violence in October.
A top presidency official, responding to  inquiry on whether or not the police suit has the consent of the Buhari administration, said they were surprised when the news broke yesterday.
Earlier, the police had filed a suit at the Federal High Court in Abuja, praying for an order stopping the various states' judicial panels of inquiry probing allegations of rights abuses and other acts of brutality against the disbanded Special Anti-Robbery Squad (SARS) and other police tactical units.
The plaintiff in the suit marked, FHC/ABJ/CS/1492/2020, urged the court to restrain the attorneys-general of the 36 states of the federation and their various panels of enquiry from going ahead with the probe.
But the Inspector-General of Police, Mr. Mohammed Adamu, has denied authorising the suit and ordered an investigation into the circumstances surrounding its filing.
Besides, he has queried the Force Legal Officer, who may face further sanctions if found guilty of dereliction of duty, over the suit.
The suit has also divided lawyers and other activists as while some hailed it, others condemned the action.
It was, however, learnt that the police headed to the court to stop the judicial panels' proceedings in a bid to stop attacks on their officers and policemen as well as on their assets.
According to the Minister of Information and Culture, Alhaji Lai Mohammed, 57 civilians, 37 policemen and six soldiers were killed all over the country when hoodlums seized the #EndSARS peaceful protests and went on a looting spree, arson and vandalism of public and private property.
In addition, the hoodlums injured 196 policemen, destroyed 164 police vehicles and torched 134 police stations.
In the wake of the social crisis, the National Economic Council (NEC), chaired by Vice President Yemi Osinbajo, at a meeting in Abuja on October 15, directed the 36 state governors and the Minister of Federal Capital Territory (FCT) to establish judicial panels to investigate alleged police brutality, supervise fresh tactical team being set up by the Inspector-General of Police and raise a fund to compensate victims of cruelty by the defunct rogue squad, SARS.
At the meeting, attended by state governors, among others, the NEC had said that membership of the judicial panels should compose of representatives of youths, students, civil society organisations and be chaired by a retired state High Court judge.
About 1,247 petitions are believed to have been filed in 30 states and the Federal Capital Territory (FCT) with the panels set up to investigate complaints of alleged police brutality or extrajudicial killings.