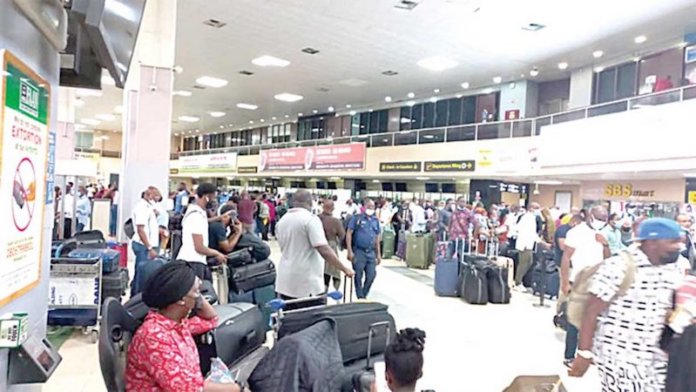 In line with its promise to review its decision to put Nigeria and some other countries on its red list which barred non-citizens and non-residents from entering the country, the United Kingdom (UK) may have concluded plans to introduce testing for fully vaccinated travellers entering the European nation.
Mailonline reported that this was disclosed by the UK Transport Secretary, Grant Shapps, who confirmed the campaign to replace 10-day quarantine for citizens and residents on arrival in UK with COVID-19 test for the fully vaccinated.
According to the newspaper, return of the red list met with fury from officials in affected African countries as travellers in quarantine complained of six-hour journeys to hotel and 'grim' food.
"The travel red list is set to be scrapped as soon as this week. The emergence of Omicron forced thousands of travellers into hotel quarantine at a cost of £2,285 per person for ten days," Mailonline reported, adding that the plan might be approved this week, as data suggested that with Omicron spreading rapidly worldwide, there would be limited differences in countries' infection rates.
"At Wednesday's Covid briefing, Boris Johnson promised to re-examine the policy amid claims it was unfair and ineffective," the paper reported.
But feelers from the UK embassy in Nigeria indicated that it is still sticking to its promise that the COVID-19 protocol introduced on December 6, 2021 would be reviewed on December 20.
A source from the High Commission told THISDAY, "We will know on December 20th, what the way forward is and if there's a new development before then, we will issue and official statement."
Before Nigeria was added to the red list on December 6, 2021, the UK statement from the British High Commission issued on December 4, had stated: "These are temporary measures that have been introduced to prevent further Omicron cases from entering the UK, and will be examined at a review point on 20 December."
The Nigerian government severely criticised UK"s decision to put Nigeria in the red list.