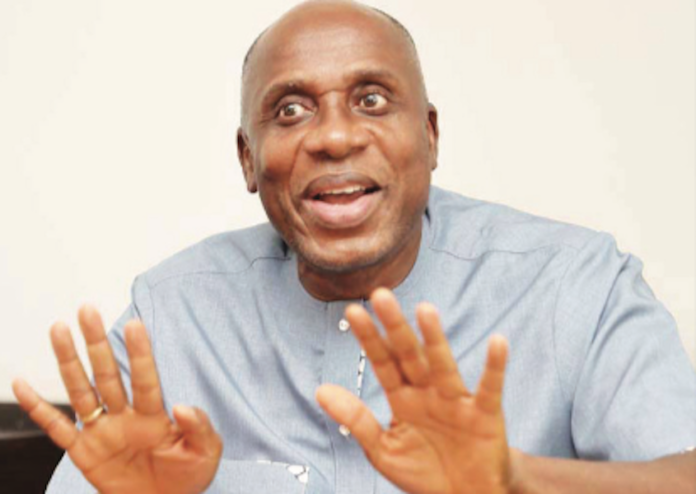 The Minister of Transportation, Hon. Rotimi Amaechi's disposition to any media engagement is nothing short of an opportunity to relax and unwind, even when the issues involved are serious. With candour and humour, he always waltzes through, no matter the stretch of time. Yet, Amaechi is not one of those sources, who would ask to have your questions in advance or an idea of the areas you intend to cover, although nothing is bad in being prepared for an interview. Just 'come and shoot', whilst he plays through the session, curiously, dealing with some of the most difficult questions arising from his beat. Interestingly, his familiar approach to what might have been considered obnoxious issues, took a different form this time, making the time spent with THISDAY a lot more interactive. From the business of railway infrastructure development in the country to concerns in the maritime sector, the local politics of Rivers State, the clamour for power shift, the man called Muhammadu Buhari and the journey to the 2023 presidential bout, the former governor of Rivers State, had his answers structured for every probing question, somewhat. Excerpts:
For nearly 6 years, you've been the minister of transportation and the major focus has been mainly railway infrastructure. How has the journey been like?
The journey has been tough; it has not been easy, honestly. There is somebody that I am battling with now or a group of people that I am battling with. They are trying to blackmail me, they want me to give them a contract and they have come to me physically and I said no. Now that the contract is in the process of approval, they have sent some text messages to me. Let me just show you the message they sent to me so that you can see how bad they are, but me, I will never fall for blackmail.
Listen to what they sent to me: "We are working on a cargo-tracking note story and we need the minister's reply to some questions below. The VP says the minister has contravened the public procurement act in obtaining the presidential approval for the contract." How do you contravene a public procurement act when you have a presidential approval? Don't forget I said they had approached me physically. When they could not reach me, they got to my wife. And so, for not giving them, they now contracted a press team and I say they can publish. At least, I have got approval from the president.
Three times they tried to stop it, they got some government officials to stop it – three times – but I still continued. Having failed in the last one, which happened two weeks ago, they have now contracted a press team. So those are the things you meet in the course of your work as a minister of transport. It has not been easy. If anybody thinks it is easy, it is not, coupled with the fact that there is a political element to the issue of railway construction. And I told a joke, I said see the Yoruba, they are not complaining, no shouting, nothing because we have done Lagos-Ibadan. If we had not done Lagos-Ibadan, the Yoruba would have been shouting by now.
So that is the political element to it. It is just like the Igbo are saying, oh, you have done nothing for our side. They merit having a railway but I have always said that railway construction is not political; it is economics. I am constructing Lagos-Ibadan, not because I want to satisfy the Yoruba, it is because Lagos-Kano will generate about 11 million tons of cargo. So in the whole of the country, that figure by far makes economic sense for anybody who wants to construct a railway than going to construct, for instance, from South-south. If the South-south is about 3 million or 4 million tons, I will first and foremost construct Lagos to Kano, because it makes more economic sense than doing the one where I come from.
So we are pursuing Lagos to Kano, and as we are talking now, we are constructing from Kano to Kaduna. We have finished Lagos to Ibadan, we are looking for money to go from Ibadan to Abuja to complete the whole gamut of Lagos to Kano. Now, the next most important rail line to Lagos –Kano is Port Harcourt to Maiduguri, which includes the South East area, because it has 11 million tons of cargo. We have not been able to generate the data for Lagos to Calabar. The president has said to me, Ameachi, complete Lagos to Kano, Port Harcourt to Maiduguri and then Lagos to Calabar. These are the three most important rail lines in Nigeria. The next one will be the central line, which is Itakpe to Warri but then, there is a new addition, which comes from Abuja to Barro to Itakpe. That is the central line. Once we finish this, the areas that will be remaining will be Yola, Adamawa, Taraba, Gusau in Zamfara, Sokoto and Kebbi. These are the five states that are remaining and we are working towards it. They are not contiguous and that is why we are finding it difficult. The professionals are doing their feasibility studies so that we can add them.
You have the numbers for Lagos to Kano, the volume it carries, 11 million tons, what is the economic data that supports the construction of Kano to Maradi rail?
I have answered that question to the whole country. I have answered it outside Nigeria. I have also answered my wife and children. We did not design Kano-Maradi; it was not our idea. We met it on the table. Somebody told me that it was Goodluck Jonathan's government that did the feasibility studies and design and all that, I don't know how true it is. Two, it is a critical arrangement between Nigeria and ECOWAS. So Nigeria is bound to do two major rail lines to join the West African rail line, that is, Lagos to Seme and Kano to Maradi. And for me, Kano to Maradi makes more economic sense than Lagos to Seme. Maradi makes more economic sense than Seme.
Don't forget Benin Republic is a competing nation. They are competing with Nigeria, because they are a coastal state; they have a seaport. What ECOWAS is trying to do is to bring landlocked states to be able to use their waters. So you shouldn't be encouraging your neighbouring state that has waters. What you should do is to see how you can make sure it does not have enough cargo. If you want to do that, then, Kano rail becomes a priority. I now said okay, Nigeria will fulfil its obligation by constructing Kano to Maradi. I flew to Niger Republic, had a meeting with the prime minister and said to him, 'look, we are going to construct rail line from Kano to Maradi and we are already constructing Lagos to Kano, which means that, if you board in Maradi, you will not stop anywhere until you get to Lagos. What is the benefit? The seaport in Lagos becomes busier than it is now, because they have promised us and we should put that in writing. I am not a lawyer; I have to imbibe that culture of putting things in writing. I usually believe that everybody is a gentleman but these are nations – Nigerian nation and Niger Republic. There is a need for us to put it in writing. They have agreed that their country will import national cargos through Lagos seaport. That is the way to make money out of the Kano-Maradi rail line.
But how do you action that in an international court, assuming they reneged on the agreement?
How did you action Bakassi? An agreement is an agreement. I am a law student; I am a fourth-year law student. I am doing a double degree in law. I am doing LLB Law at Base University, LLB law at the University of London. I have done contracts here and there, and contract means if you and I reached an agreement, in any form – whether oral or written –you are bound to keep to that agreement. Any breach of it, I will go to court. There are so many international agreements in the world. Like this one I told you now, why are we doing Kano to Maradi? Because there is an agreement between all the West African states that each person will do its own.
Yet, the president said on national television that he was doing the rail to Maradi because his cousins were there?
He was joking. You know how our elders saw Nigeria; they saw Nigeria as a big brother to everybody. Unlike now because of poverty, we the younger ones are saying no, no, our leaders keep that your concept of Nigeria being big brother. So our president is still seeing Nigeria as a big brother to everybody. It is not the nature of the president to explain to you, which I have done now. I go to the cabinet and they ask me questions, some people attack me and I defend it. The approval by the cabinet was not done by the president alone, it was done by all of us. So when the president tells you they are our cousins, he was trying to make you remember that all of us are one. If somebody from Niger walks in here now and doesn't open his mouth, will you know? Just like if a Cross River person walks in here, you won't know; you will think he is a Rivers man until our intonations come to play.
A lot of people thought or believed that the president must have influenced that particular contract.
Oh… no no no, it is so annoying when I hear statements like that. Do you know why I said that? I wrote to the President four years ago, he refused to approve for a different reason. His argument was that, I am the president of the country, if you take the rail to pass through Daura, it will look as if I influenced it. And I made a joke to him. I said, 'Oga don't worry, when we get to the boundary between Daura and there, we will jump to Katsina and leave Daura alone.
The Maritime University in Daura, or is it Transport University? Some people described it as another northern agenda. What informed locating in a place like Daura?
There is no maritime university in Daura. That is where they say my arrogance comes in. What is in Daura is Transport University. The Maritime University is in Okorokiko in Delta. What you have in Daura is Transport University and the federal government or you and I are paying no kobo. I usually brag about it and say, I could have taken that money, get CCECC $50 million to go and invest in Duara and build a university for us. Why? Because you can build all these railway tracks and all that but the day the Chinese go, you don't have any technology to manage it. We had a battle. They agreed, just like I had a battle, that they should build one in my village. By the way, they are building one in my village and it is called federal university.
Much as Nigerians love the feats in the railway sector, there had been concerns about endless borrowings to fund it. Do you think the worries are misplaced?
Again, that is where you people accuse me of arrogance. What is the evidence about borrowing? So far, we have only borrowed $1.4 billion in my ministry, which is for Lagos to Ibadan. If you do your investigations, Lagos to Ibadan is $2 billion, the federal government is putting $600 million and we have put in $600 million even though we still owe less than $100 or $200 million. Now, we borrowed $1.4 billion – that's what we borrowed.
Under President Goodluck Jonathan, they borrowed $500 million to do Abuja-Kaduna. So Abuja-Kaduna which is $1billion, the Chinese government gave us $500 million. If you add the two, it is $2.1 billion since Goodluck Jonathan. Kano-Maradi is $1.9 billion, we have not borrowed, yes, we have seen the money for Kano-Maradi but until we sign the agreement, we have not borrowed. We have not seen the money for Ibadan to Abuja, the Chinese are no longer giving the money they wanted, so we are looking for the money. We are looking for money for Port Harcourt to Maiduguri, which is $3.020 billion. We have not borrowed.
When we go to the National Assembly, it is to get the approval, which is the requirement to get a loan, because your parliament must agree that you can borrow. For Kano-Kaduna, up till now, we are funded about $300 million dollars from the budget. As I am talking today, they are constructing Kano-Kaduna. The only place you can say we borrowed will be Lagos-Ibadan, $1.6billion; Abuja-Kaduna, $500 million and we don't have money yet. So when people say we are borrowing money, I am tired of explaining. Let me give you an example. I go to the cabinet and say, I want to do Port Harcourt-Maiduguri, $3.020 billion, people will shout…Amaechi! They will exclaim.
But they have forgotten that all we have got was an approval to find the money. As I am talking to you now, I am scouting around the world to look for $3.020 billion. I am looking for money to do Lagos-Calabar, which covers my area, South-south; it is not there, $11.1 billion. We have seen some movement of cash; they have told us that they will give us $300 million to start while we look for $1.65 billion. Supposing we finished the $300 million and they say they don't have money, what will you do? But so far, they have not given us any money, which is why I said I have seen, because once you put pen to paper, they will raise the first $300 million for us to commence construction.
Central line is even the worst, the Chinese company said they want to do PPP, we signed and got the contract for them to sign, now they said no, we should convert it to contract. I said no, I will not. Instead of me to convert it to contract, I will cancel it. We will advertise it and I won't let you bid. You misled us. When you are asking for PPP, everybody I met in the world told me there is nowhere since the world was created that they have seen PPP in railway. And they said there could always be a first time. Now, they have gone to look for the money and can't find the money. They say we should convert to a contract, but I will not and I will go back to the cabinet to ask for cancellation. So all these things you are hearing – all of them put together – is about $36 billion dollars. We have not got more than $2 billion.
The ones you have borrowed, are they repayable, I mean can it repay the loan?
We are already paying. We have paid over $100 million for Abuja-Kaduna. And to contribute to the payment, the ministry of transport has said to the ministry of finance, once you remove the operational cost for the rail lines, take the rest. And operational cost is about a 100-and-something million naira and we are making N350 million now.
There's a problem of model, because the Lagos-Lekki expressway is a toll road. So what are you doing to your rails?
Is there anywhere they toll rail? There is nowhere they toll rail. In fact, if railways are tolled, rail will be the cheapest means of transportation. We are here subsidising rail. You have to understand that rail is not only for passengers, it is also for cargos. So what you should say is that why is Nigeria not producing? We don't produce anything. A man met me and said we don't have rail in my town and I said tell me what you want me to do. If I bring rail to your town, what will it be carrying? Absolutely nothing. The only reason I encouraged the president to continue the rail construction is this, at the end of the day, when Nigerians begin to produce, they won't tell us they had logistical problems, because what train is about, is logistics. But here, what are you moving? There are no metals or iron ore, not even chicken. We have the capacity to move fuel, diesel. If you are going to Ibadan, once you reach Kajola, look to the left, you will see our wet cargo wagons.