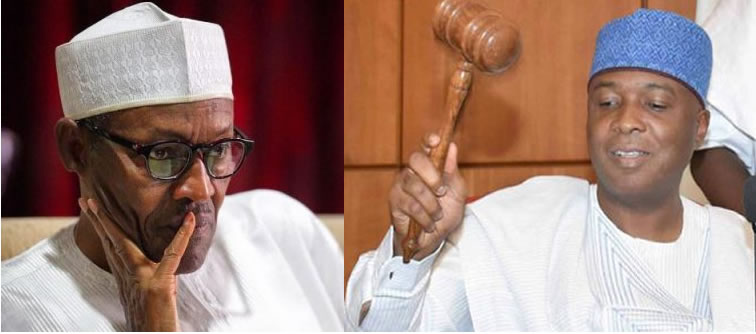 At the plenary on Wednesday, the Senate passed the harmonised version of the Petroleum Industry Governance Bill.
The passage followed the adoption of the report by the Conference Committee on the PIGB, which harmonised the versions earlier passed by the Senate and House of Representatives.
The harmonised version of the bill seeks to unbundle the Nigerian National Petroleum Corporation and merge its subsidiaries such as the Department of Petroleum Resources and the Petroleum Products Pricing Regulatory Agency into one entity.
A copy of the passed bill was obtained by our correspondent on Wednesday.
The proposed law seeks to establish the Petroleum Equalisation Fund "into which shall be paid all monies payable to the Equalisation Fund," including a five per cent fuel levy "in respect of all fuel sold and distributed within the federation, which shall be charged subject to the approval of the minister (of Petroleum Resources)."
The bill, however, did not state who would pay the levy among the Federal Government, importers and marketers, and consumers. It also did not state the level at which the levy would be paid, whether during exploration, importation or at the retail pump level.
It was not stated if the levy would be charged per barrel of oil or per litre of fuel.
The proposed PEF will also generate revenue from "all subventions, fees and charges for services rendered or publications made by the fund; all other funding which may, from time to time, accrue to the fund; any net surplus revenue recovered from petroleum products marketing companies pursuant to this Act; and such sums as may be provided for the purpose of the Equalisation Fund by the Federal Government."
The Equalisation Fund, according to the bill, will use the funds received for reimbursement of oil marketing companies for any loss sustained by them "solely and exclusively as a result of the sale by them of petroleum products at uniform prices throughout Nigeria as may be fixed by the minister."
The fund will be responsible for "the provision of financial and other support as may from time to time be determined by the minister."
The financial year of the fund will be 12 calendar months, commencing on the first day of January of each year.
Some of the functions of the fund include collecting all revenues and levies charged and "determining, at such intervals as the board may direct, the net surplus revenue recoverable from any oil marketing company and accruing to that company from the sale by it of petroleum products at such uniform prices as may be fixed by the minister."
It will also be "determining the amount of reimbursement due to any oil marketing company for purposes of equalisation of price of products; the payment of all disbursements authorised; and accounting for all monies collected, paid or otherwise expended."
The proposed law also seeks to establish the Nigeria Petroleum Regulatory Commission, to be vested with "all assets, funds, resources and other movable and immovable properties, which immediately before the effective date were held by the Petroleum Inspectorate, the Department of Petroleum Resources and the Petroleum Products Pricing Regulatory Agency."
The bill added, "As from the date of commencement of this Act, the rights, interests, obligations and liabilities of the PI, DPR and the PPPRA existing immediately before the effective date under any contract or instrument or law or in equity shall by virtue of this Act be assigned to and vested in the commission."