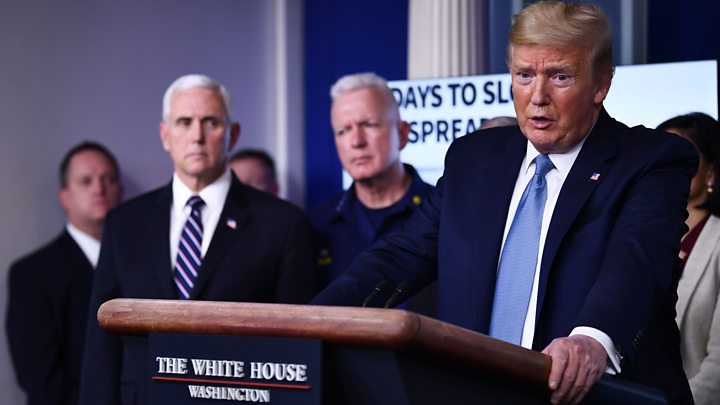 The United States has recorded 1,169 deaths from COVID-19 in the last 24 hours, ending yesterday morning, the highest single-day toll from the disease so far in any country.
Data from the John Hopkins University show a total of 5,926 deaths have been reported in the US, which also has the highest number of cases worldwide at 245,570.
In Italy, which had the global single-day record of deaths at 969, a total of 13,915 have now been killed by COVID-19 — the highest death-toll globally.
About 115,242 persons have also been infected by the disease in the European country.
Spain, the third worst-hit country, has also recorded 112,065 infections so far.
Europe remains the most affected region with at least half a million cases — more than half of the total infections worldwide.
The picture is less gloomy in Africa with 7,028 cases and 284 deaths across 50 countries, according to the Africa Centers for Disease Control and Prevention.
Sanwo-Olu, Wife Test Negative
Lagos State governor, Mr. Babajide Sanwo-Olu and his wife, Dr. Ibijoke Sanwo-Olu have tested negative to COVID 19.
The state's Commissioner for Health, Prof. Akin Abayomi, who announced this on his official Twitter account, also revealed that personal aides of the governor and the First Lady who got tested for the Coronavirus are all negative.
According to the tweet: "I am happy to announce that #COVID19Lagos Incident Commander, Governor Babajide Sanwo-Olu @jidesanwoolu, the first Lady of Lagos @jokesanwoolu and their immediate family members, as well as aides have all tested negative to #COVID19.
The health commissioner, however, urged Lagosians to keep up with the social distancing practice, saying that the state was poised to winning the battle against the coronavirus.
"We thank Lagos residents for their concern and support. We urge all to maintain social distancing. Together we can defeat #COVID19! Please stay safe #ForGreaterLagos," he said.
Onyeama Says No cause for Alarm over Foreign Countries Evacuating Citizens
Minister of Foreign Affairs, Geoffrey Onyeama has said there was no hidden agenda behind some countries evacuating their citizens from Nigeria.
At least, 637 Europeans were evacuated from Nigeria and Benin Republic on Thursday, a move that left many wondering if there was cause for concern.
During the press briefing of the presidential task force on COVID-19 in Abuja yesterday, a journalist had asked Onyeama if leaving the country was an indictment on Nigeria's health system, to which the minister responded that it was not necessarily so.
Onyeama said those who had left did so to enable them make use of a system that they are familiar with, should the need arise.
He added that the diplomatic staff of most of these countries were still in Nigeria, and that they have no plans of leaving.
"It is basically a case where people are more familiar with the health system in their various countries and so prefer to go to the various countries so in the event that they might have to be confined, they would be in more familiar surroundings and they would also have access to medical practitioners and facilities that they are used to," Onyeama said.
"So, that is really the reason. And you will find that a large number of those countries evacuating citizens still have their heads of mission and ambassadors and other staff here in Nigeria and there are no plans of leaving."